Forgotten your Username or Password/First-time PIN?
How do I sign up for Online/Mobile Banking?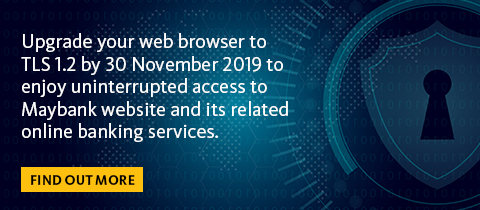 Fingerprint sensor issue with certain Samsung devices
If you are using a Samsung Galaxy device, please note that there are issues with the finger authentication feature. Affected models are S10/10+, Note 10/10+ and Tab S6.
Please disable the fingerprint login in your Samsung phone and Maybank Mobile Banking app until a fix is released by Samsung.
Find out more.
Phishing Email

Dear Customer

It has been brought to Maybank's attention that some members of the public have received email from Maybank (e.g. payments@maybank.com.sg) requesting customers to either click on a website link or an attachment to verify accounts or transactions. This is done with the intention to illegally obtain customers' credentials or execute malicious activity on customers' personal computers or laptops.

Maybank would like to clarify that such email messages are not issued by Maybank and advise customers NOT to click on any links or attachment contained in the email. Customers who have clicked on the link in such emails are advised to change their passwords immediately, by directly logging into Maybank2u.com.sg. Maybank would like to advise all customers to NOT reveal or disclose your passwords to anyone at any time online or on the telephone.

Should you have further queries, please do not hesitate to contact our Customer Relationship Executives on 1800-MAYBANK (1800-629 2265) or (65) 6533 5229 (if you are calling from overseas).
Highlights
Safety Tips for Login
Do not access the login page via web site links provided in emails. Open a new web browser and enter the URL address of the Bank (www.maybank2u.com.sg) directly into your web browser.
For secure Online Banking access, always shut down all existing web browser windows before you perform the login.
Do not disclose your Username or Password to anyone. Maybank staff will not ask you to reveal your Username or Password under any circumstances.
If you encounter any certificate warning or any warning messages, do not proceed and contact Maybank immediately.
Always check the authenticity of the Maybank's website by comparing the URL and the Maybank's name in its digital certificate, or by observing the indicators provided by an extended validation certificate.
Always ensure that the Maybank's website address changes from 'http://' to 'https://' and a security icon that looks like a lock or key appears when authentication and encryption is expected.
Security Alert
Security Advisory
Security Statement
Disclaimer Statement
By accessing any page or link on this website, you agree to be bound by the Terms & Conditions. This site is best viewed with IE 8.x or lower, Netscape 8.x or lower, Mozilla Firefox 3.x or lower and Flash Player 8.0+ in 1024 x 768 screen resolution.